Website Help and Frequently Asked Questions
How to use the Discussion Board
There are two discussion boards.
'All users' is seen by both practices and locums. Practices use it to request locum cover or advertise other opportunities.
'GP users only' is only seen by locum members.
Once you have logged in, click the 'members' tab at the top, then click on 'discussions'.
Select the button 'All users' or 'GP users only' as applicable to see the list of messages (also known as threads).
To see the full message, click on a message header. The full message is shown including a details box with contact information for the practice where relevant.
You can reply to all posted messages.
You can also add your own message (thread). To do this, click on '+ add new thread' and type in your message. You can edit and delete it as and when needed.
How to Receive / Stop receiving notifications via email
You can opt out or opt in for email notifications when any discussion item is posted. Go to 'my profile' and select the relevant option under the drop down menu titled 'Discussion options'.
Practices and locums can also choose the option "yes, only replies to my postings" if they wish to limit notifications to replies for their own postings.
You will get one email notification for each new post if you opt in.
Popular FAQs

1. Your message is automatically sent to all our locum GP members
Just to remind you, your message goes onto the discussion board and the discussion board emails a snapshot copy of the message is emailed directly to the nominated inboxes of every single locum GP actively registered with us, regardless of which health board they are based in, so you really email every locum who is signed up to receive any jobs from us.


2. Use subject heading for the practice name and location +/- date(s)
When a GPs scans their messages, if the subject heading has the practice name and location and or date(s), GPs can go straight to it instead of working down what can often be a long list of sessions that need to be covered.
A short but informative subject heading attracts responses promptly.
eg Locum Required, Multiple dates/ AM clinic February, ABC Practice near M8


3. Details help!
It is worth designing a standard template that you alter to update specific dates or duties for that particular session.
GPs prefer posts that have useful information like location, a short, clear outline of duties, other HCPs who will be on site and an easy direct way to offer their services/confirm a booking.
It is important to be clear if you are asking for single-handed or on call cover. Similarly, if no visits/docman, it is worth mentioning.


4. Help the locum contact you easily
Making sure you have an easy way to be contacted (ideally Not via switchboard unless your reception answer calls quickly - even 5 mins on a call holding system can lose you an otherwise helpful locum.
Please make sure you have at least included contact details ie email address or phone number in the main text of the message. Busy GPs will ignore messages that don't have these as they cannot reply to your post directly and have to log in separately to find out who to contact.

5. Minimise unnecessary email/ phone traffic
If you have filled the post - ideally if you update the original post it will save unnecessary email and phone traffic between you and the doctors.
Hope this is helpful! Please contact us if any queries.
How do practices use the Availability Calendar to search for Locums?
When a practice makes a search over a series of dates, the system uses a "best fit" approach to find locums. It first selects those locums with an exact match for all the dates chosen. It then lists locums who are available on some of the dates, listing those who match best first. When two locums have an equal match, they are listed by most recently updated calendar. A series of "traffic light" red and green icons indicate which of the days the locum is available (green) or not available (red) with each box representing one day.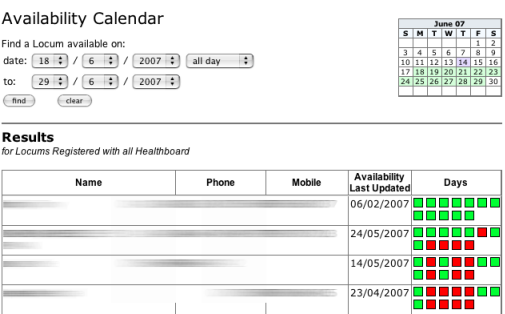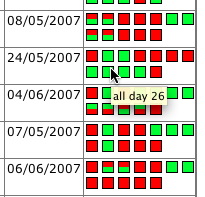 So in the above search for locums available for the 2 weeks starting 18/6, only the first locum listed (names/contact hidden in the image) is available on all the dates. The following 3 locums are only available on some of the chosen dates. The practice can "hover" their mouse over each icon to see the exact day to which the box corresponds (see image right).
The practice could now contact the first locum to offer them the full 2 weeks, or alternatively contact several of the locums further down the list in order to have cover for all of their selected dates.
If you don't want to be listed at all then you can make yourself 'inactive'. You wont appear in any searches until you make yourself 'active' again.
login to the site
under 'locum tools' select the 'availability calendar'
under the 'Calendar is:' heading, click the 'off' radio button
click 'save'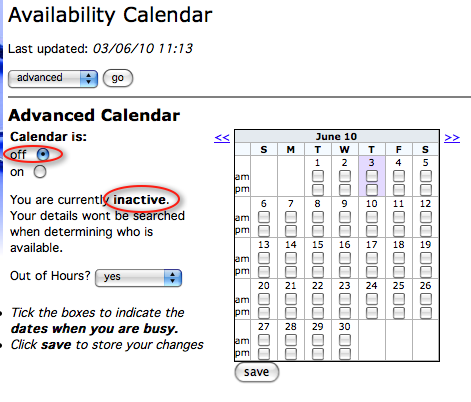 Making your calendar 'inactive' means will your name will not appear when practices do a search - you are automatically discarded from the search results before they are presented to the practice. You can turn the calendar back to 'active' when you want to be listed again.