Website Help and Frequently Asked Questions
How to use the Discussion Board
There are two discussion boards.
'All users' is seen by both practices and locums. Practices use it to request locum cover or advertise other opportunities.
'GP users only' is only seen by locum members.
Once you have logged in, click the 'members' tab at the top, then click on 'discussions'.
Select the button 'All users' or 'GP users only' as applicable to see the list of messages (also known as threads).
To see the full message, click on a message header. The full message is shown including a details box with contact information for the practice where relevant.
You can reply to all posted messages.
You can also add your own message (thread). To do this, click on '+ add new thread' and type in your message. You can edit and delete it as and when needed.
TO RECEIVE / STOP RECEIVING NOTIFICATIONS VIA EMAIL: You can opt out or opt in for email notifications when any discussion item is posted. Go to 'my profile' and select the relevant option under the drop down menu titled 'Discussion options'.
Practices and locums can also choose the option "yes, only replies to my postings" if they wish to limit notifications to replies for their own postings.
You will get one email notification for each new post if you opt in.
How do practices use the Availability Calendar to search for Locums?
When a practice makes a search over a series of dates, the system uses a "best fit" approach to find locums. It first selects those locums with an exact match for all the dates chosen. It then lists locums who are available on some of the dates, listing those who match best first. When two locums have an equal match, they are listed by most recently updated calendar. A series of "traffic light" red and green icons indicate which of the days the locum is available (green) or not available (red) with each box representing one day.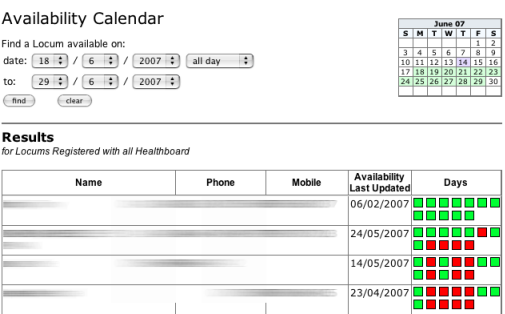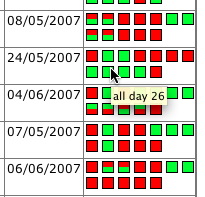 So in the above search for locums available for the 2 weeks starting 18/6, only the first locum listed (names/contact hidden in the image) is available on all the dates. The following 3 locums are only available on some of the chosen dates. The practice can "hover" their mouse over each icon to see the exact day to which the box corresponds (see image right).
The practice could now contact the first locum to offer them the full 2 weeks, or alternatively contact several of the locums further down the list in order to have cover for all of their selected dates.
Why do I still get calls from practices when I've marked myself as busy ?
You may have filled your calendar with numerous dates, but there may be a few you have left as available. If a practice were to enter one of these dates e.g. Sunday 4th August 07, you will be listed, as your calendar has this day marked as free.
In addition, if a practice selects a series of dates e.g. 18/6/15 to 29/6/15, the web page shows a 'best fit' list, starting with locums who are available on all these dates, then those who are available only on some of these dates. Even if it is only one of the days in the selected series, you will be listed (toward the bottom though). Those who have updated their calendar most recently are shown first if there is an equal match to the days selected.
The page the practices see uses a 'traffic light' set of icons to indicate daily availability within their selected range of days - a green icon is shown if the locum is available on day 'x', a red for each day they are not available. This shows the practice which of the selected days each locum is actually available. This allows them to contact locums who have an exact match for their days first, then only move down the list to those who part match, where they may have to book 2 or more locums to fill their date range.
Either of the above two circumstances would result in you 'being listed' when a practice makes a search. The practice should make judgement based on the 'traffic lights' as to whether to contact you to ask you to do a certain date - if you have 'red' for 8/10 of their dates, then they should know you are only available for 2 of their selected 10 days. See the question above for more details on how this all works.
If you don't want to be listed at all then you can make yourself 'inactive'. You wont appear in any searches until you make yourself 'active' again.
login to the site
under 'locum tools' select the 'availability calendar'
under the 'Calendar is:' heading, click the 'off' radio button
click 'save'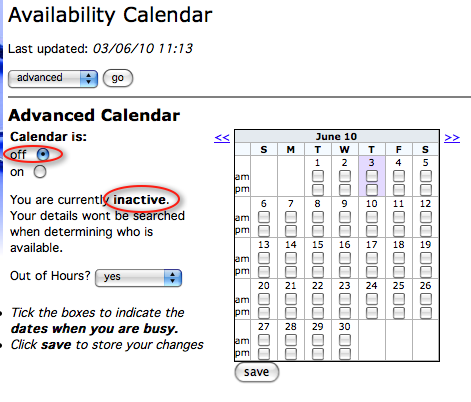 Making your calendar 'inactive' means will your name will not appear when practices do a search - you are automatically discarded from the search results before they are presented to the practice. You can turn the calendar back to 'active' when you want to be listed again.